Holistic solutions for data backup and disaster recovery in Lancaster, West Chester and Harrisburg
Is Your Data Backup Solution Really Keeping Your Business Safe? "Why does protecting my business with data backup have to be so stressful?" Sound like something you may have said before?
With strategic Disaster Recovery solutions from Snap Computer Solutions, LLC, you can rest assured your business and your Computer Hard Drive Backup system are safe and sound in Lancaster, West Chester, York and Harrisburg.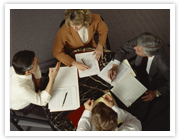 With Snap Computer Solutions on your side for Business Continuity Planning and Disaster Recovery solutions, we will always:
Put an end to your worries about natural and manmade disasters affecting your business, with tailor-made strategies that cover all your bases.
Decrease downtime in the case of a disaster, with proactive Back Up and Recovery solutions that will quickly allow you to return to business as usual.
End your reliance on outdated tape backup systems, with comprehensive Business Continuity plans that continually back you up.
When you don't have to worry about what could happen to your valuable business data, you can focus on more important matters.
Snap Computer Solutions understands how to end your fears over unpredictable disasters and unforeseen data loss. Serving Lancaster, West Chester, York, Harrisburg, Ephrata, Reading, Leola and Downington, our dependable data backup and computer hard drive backup services can take the fear out of running your business.
Whether you are in need of Offsite Data Backup and Recovery Services, Online Backup, Hard Drive and Data Backup, Computer Backup, Online Disaster Recovery Plan, Hard Drive and File Data Recovery, Computer Recovery, Remote Data Backup, or Business Continuity Plan, we can help with dependable service and support.
Could your business survive a disaster as it stands today? Let us show you how a dependable Disaster Recovery and Data Backup solution can make running your company a more stress-free job.